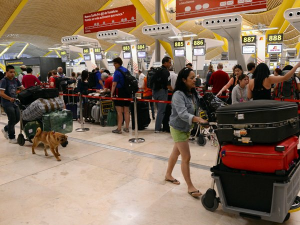 Asians have surpassed Hispanics as the largest group of new immigrants to the United States, according to a new study from the Pew Research Center.
The study, called "The Rise of Asian Americans" and released on Tuesday, reveals that Asian-Americans also have the highest income, are the best educated and are the fastest-growing racial group in America.
The wave of incoming Asians pushed the total number of Asian-Americans to a record 18.2 million, or 5.8 percent of the total U.S. population, according to census data. By comparison, non-Hispanic whites (197.5 million) account for 63.3 of the U.S. population, while Hispanics (52 million) and non-Hispanic blacks (38.3 million) account for 16.7 percent and 12.3 percent, respectively.
The influx of Asians reflects "a slowdown in illegal immigration while American employers increase their demand for high-skilled workers," the Associated Press said. Sixty-one percent of 25-to-64-year-old Asian immigrants come with at least a bachelor's degree—more than double non-Asian immigrants, making the recent Asian arrivals "the most highly educated cohort of immigrants in U.S. history."
The study also found that Asian-Americans are "more satisfied than the general public with their lives, finances and the direction of the country, and they place a greater value on marriage, parenthood, hard work and career success."
What impact could this have on the American economy? And what should Americans do to keep up with their new competition?
Image: Inquirer Global Nation