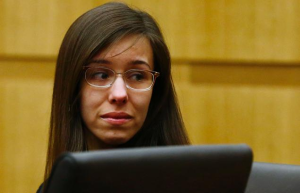 After months of twists and turns in a dramatic trial rife with sex, lies and digital images, an Arizona jury Wednesday found Jodi Arias guilty of first-degree murder in the slaying of ex-boyfriend Travis Alexander. Jurors will return to court Thursday for the aggravation phase of the trial — an important step in the next key decision they face: determining whether Arias lives or dies.
'I'd rather get death'
In a television interview minutes after the verdict was announced, Arias said she'd prefer a death sentence.
"I said years ago that I'd rather get death than life, and that still is true today," she told Phoenix television station KSAZ. "I believe death is the ultimate freedom, so I'd rather just have my freedom as soon as I can get it."
The comments prompted authorities to place Arias on suicide watch in an Arizona jail, according to the Maricopa County Sheriff's Office. Arias was stoic in court Wednesday. Her eyes briefly welled up with tears as a clerk announced that the jury found her guilty of first-degree murder for killing Alexander in June 2008.
'Grisly slaying'
If the jury decides on a death sentence, the judge is bound by that decision. But if the jury decides against the death penalty, the judge would have two options: sentencing Arias to life in prison without the possibility of parole, or sentencing her to life in prison with the possibility of parole after at least 25 years.
Alexander was stabbed repeatedly, shot and nearly decapitated five years ago. Arias says she killed him in self-defense after he attacked her, but the grisly slaying caused even some anti-domestic violence advocates to doubt her case.
Do you think Jodi Arias killed her boyfriend in self-defense? Which sentence will most probably be given by the jury — life in prison or death sentence?
Source: Catherine E. Shoichet, CNN
Image: NY Daily News