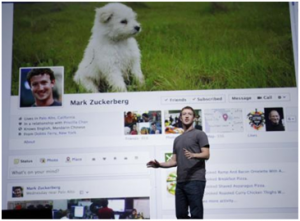 The service's new Timeline profiles, which Facebook introduced nearly three months ago at its annual conference, is now available to any of the site's 800 million users who decide to activate it. Soon, Facebook will turn it on for everybody with an alert at the top of profiles, the company said in a blog post.
Timeline will arrange a user's posts, photos and important milestones (weddings, births of children, etc.) chronologically in two columns of information, with a blue line marked by dates running vertically down the middle. On the right, visitors can easily skip to certain months or years to see what was happening at that time in a person's life, and below that are advertisements.
Facebook has said the idea behind Timeline is to chronicle someone's life and its major events over many years instead of the social network's current profile pages, which tend to emphasize the here and now. A user has seven days to review the new layout and edit things before it goes public and can be viewed by friends. Each user can choose during that time to unveil their page before the seven days are up; regardless, Facebook will publish the page automatically after a week.
"So yes, you will hate the new Facebook profile when it launches … " wrote Mashable founder Pete Cashmore in a September column for CNN. "Then, like me, you'll realize that Facebook has unleashed something so remarkable that you didn't even recognize it at first: A meaningful social network. And … you'll wonder why life wasn't always this way, and how you got by without it."
Source: CNN.com
Image: Techteria.com