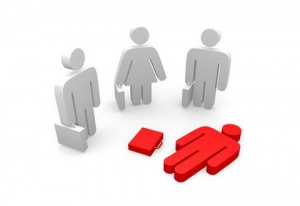 You probably think I'm crazy for writing about signs it's time to quit your job when the economy is so volatile, but your health and happiness are far more important than a paycheck.  Here are 5 signs it's time to quit your job.
YOUR APPEARANCE HAS CHANGED. If you've gained or lost a significant amount of weight, wake up with dark circles or bags under your eyes or just don't care about your appearance anymore due to stress from your job, it's a serious indicator that it's time to move on.
YOU FEEL STAGNANT. If your workplace doesn't offer any opportunity to learn new things or promote, it's a definite sign it's time to quit your job. If you're currently at a job that isn't in line with your plans, think about what you can do to get you closer to your goal.
YOU'RE OBSESSED WITH JOB SEARCHING. We all like to keep our options open when it comes to jobs, but if you are constantly online at work looking for open positions and updating your resume and cover letter, it's time to go!
YOU DREAD GOING TO WORK EVERYDAY. If you're having physical or emotional reactions to going in to work, it's very unhealthy and time to call the doctor and update the old resume.
YOUR WORKPLACE ISN'T FARING WELL. When you start seeing reduction of benefits and bonuses, downsizing and high turnovers in corporate, it's safe to say that it's time to move on from your job.
Did you find yourself agreeing to at least 3 of these signs it's time to quit your job? If so, don't get discouraged. Even though we are in a bad economy, all hope is not lost; you have other options!
Source: All Women's Talk
Image: Dr. Jack Singer