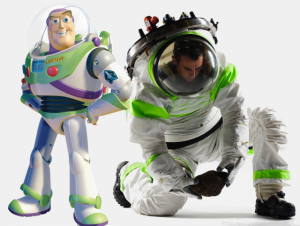 If your kids didn't already want to be astronauts when they grow up — just wait until they get a look at the Z-1. It's NASA's next generation of spacesuit, and bears more than a passing resemblance to the suit worn by Buzz Lightyear in Pixar's beloved Toy Story films.
'Just like Lightyear's'
The Z-1 Prototype Spacesuit and Portable Life Support System 2.0, produced for NASA by the David Clark Company, is white with fluorescent green stripes, and features a large, hemispherical transparent dome helmet –just like Lightyear's.
'Ingenious'
Named one of Time magazine's inventions of the year, the suit is designed to take astronauts into long missions into deep space. It features a rear-entry port that gives galaxy-hopping space rangers an easy way to dock with shuttles and space stations without the need for an airlock. Ingenious!
The Z-1 is a prototype, NASA stresses, and will be subject to further revisions before it's actually put into use by NASA in 2017 — hopefully by which time the U.S.'s space program will again be in full swing.
Do you like NASA's next generation of spacesuit that resembles Buzz Lightyear's costume? Does this suit inspire you somewhat to be an astronaut?
Source: The Hollywood Reporter, Yahoo Movies
Image: The Sly Oyster