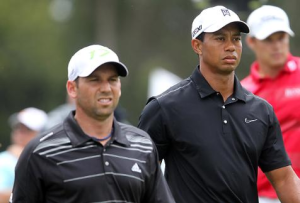 The feud between Sergio Garcia and Tiger Woods was taken to another level on Tuesday night. According to The Guardian's Ewan Murray, Garcia was at the European Tour's gala players' awards dinner where he was asked a question about Woods. His answer could be construed as a racist remark:
'Fried chicken'
Garcia was asked in jest if he would have the American round for dinner one night during the upcoming US Open. "We will have him round every night," García said. "We will serve fried chicken."
Later on, the Spaniard apologized, saying that his comment was a "silly remark" and not meant to come off in a "racist manner." On Wednesday, Woods took to Twitter to respond to Garcia's comments:
"The comment that was made wasn't silly. It was wrong, hurtful and clearly inappropriate…

I'm confident that there is real regret that the remark was made.

The Players ended nearly two weeks ago and it's long past time to move on and talk about golf."
'Unfortunate choice of words'
Garcia then formally apologized to Tiger during a press conference on Wednesday morning. No matter what Garcia meant with his comments, this will likely serve as yet another landmark in the ongoing spat between the two golfers. Garcia's unfortunate choice of words also brought to mind Fuzzy Zoeller's offensive remarks after Woods won his first major back in 1997 at Augusta.
Zoeller was quoted as saying of Woods' win, "You pat him on the back and say congratulations and enjoy it and tell him not serve fried chicken next year. Got it? Or collard greens or whatever the hell they serve."
The winner of the Masters traditionally chooses the champions' dinner menu for the following year's tournament.  Zoeller later apologized.
Are you for Team Tiger or Team Garcia? And what do you think of Sergio Garcia's remark — racist or not?
Source: Tim Keeney, Bleacher Report
Image: ESPN