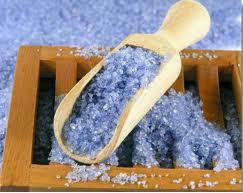 On Saturday night in Miami, a naked "zombie-like" man attacked another man, biting off parts of his face. The attack was halted only when police shot and killed the attacker, identified as 31-year old Rudy Eugene. Armando Aguilar, president of the Miami Fraternal Order of Police, suspects that the attacker was under the influence of drugs known as "bath salts."
These aren't the same bath salts to make your tub water smell nice. "Bath salts" is just a fake name, but users know it's not really for the bath. Dr. Nora Volkow, director of the National Institute on Drug Abuse described bath salts as an "emerging and dangerous product" in February 2011, urging parents, teachers and the public to be aware of the potential dangers associated with these drugs, which had already been linked to numerous visits to the E.R. and calls to poison control centers in the U.S. In October 2011, these "bath salts" and its related products were put on schedule 1 of the Controlled Substances Act, which means that the drug has no legitimate use or safety in the U.S. and is highly addictive.
Bath salts contain amphetamine-like chemicals such as methylenedioxypyrovalerone (MDPV), mephedrone, and pyrovalerone. They're referred to as a "designer drug of the phenethylamine class" by the Drug Enforcement Administration. Other drugs in this class include amphetamines, mescaline, and ephedrine. MDPV comes in a powdered form that is inhaled, swallowed or shot into a vein. Bath Salts are sold as "cocaine substitutes" or "synthetic LSD".
When MDPV gets to the brain, the effects include producing feelings of empathy, stimulation, alertness, euphoria, sensory awareness and hallucinations. Other reported effects include rapid heart rate, high blood pressure, and sweating. According to the DEA, MDPV has been reported to cause intense panic attacks, psychosis, and a strong desire to use the drug again.
Do you think 'bath salts' caused that man to act like a cannibalistic zombie? Share your thoughts with us!
Source: CNN
Image: Frugal Cafe Blog Zone