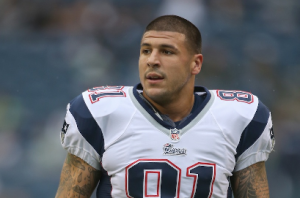 New England Patriots tight end Aaron Hernandez was reportedly questioned by North Attleboro, Mass., police on Monday as part of an ongoing investigation of a possible murder that took place near his home.
'Integral piece of evidence'
Police reportedly developed an interest in questioning Hernandez after a rental car became an integral piece of evidence in the murder of a 27-year-old Boston man, whose body was found on Monday within a mile of Hernandez's home. It's unclear whether he was murdered in that location or dropped there.
Police are currently working with Enterprise, the vehicle's leaser, to dust the vehicle for fingerprints and check for other evidence. Thamel and Bedard's report notes that a source close to the investigation has said Hernandez's name is tied to the rental car. It's unclear whether Hernandez himself rented the car or not.
'Uncooperative'
ABC News' Michele McPhee reported that the man murdered, who was unidentified as of publication, is an "associate" of Hernandez's. ABC News also found out that Hernandez has been uncooperative with police since the investigation began, while Thamel and Bedard have reported the New England tight end has consulted an attorney in the case.
The Patriots organization has refrained from commenting on the investigation. A source close to Hernandez has confirmed that Hernandez did speak with investigators this week, but his representation refused to comment on the matter when contacted by Sports Illustrated.
How do you think is Aaron Hernandez involved in this homicide probe? And how will this affect his NFL career?
Source: Tyler Conway, Bleacher Report
Image: Deadspin