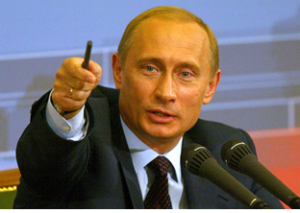 Vladimir Putin accepted his ruling party's nomination on Sunday to return to Russia's presidency, while accusing foreigners of funding his political opponents in a reminder of the anti-Western rhetoric that characterized his years in power.
Putin said that ahead of both votes "representatives of some foreign countries are gathering those they are paying money to, so-called grant recipients, to instruct them and assign work in order to influence the election campaign themselves." Foreign governments "would do better to pay off their debts with this money and stop pursuing inefficient and costly economic policies," he said in a dig at economic troubles in Europe and the United States.
Putin, 59, was constitutionally obliged to leave the presidency after serving two consecutive four-year terms, but has remained Russia's most powerful man as prime minister. The constitution now permits him to serve two more consecutive terms of six years, which could see him stay president until 2024.
Laying out the case for his return to the presidency, Putin attacked rival political forces, blaming the Communists for the 1991 collapse of the Soviet Union and saying those in power in the 1990s had "brought the country to the edge of the abyss."
Since then, he said, the government had managed to "return the country its strength, self-assurance and respect in the world. All this was done with the participation and direct support of United Russia."
"Russia needs a leader — one who is brave, strong, smart and capable not only of protecting the rights and freedoms of citizens but of reminding everyone of their responsibilities," said Stanislav Govorukhin, a politically conservative filmmaker.