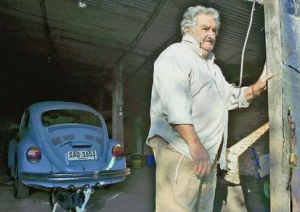 It's a common grumble that politicians' lifestyles are far removed from those of their electorate. Not so in Uruguay. Meet the president – who lives on a ramshackle farm and gives away most of his pay.
'Donates 90% of his salary'
Laundry is strung outside the house. The water comes from a well in a yard, overgrown with weeds. Only two police officers and Manuela, a three-legged dog, keep watch outside. This is the residence of the president of Uruguay, Jose Mujica, whose lifestyle clearly differs sharply from that of most other world leaders. President Mujica has shunned the luxurious house that the Uruguayan state provides for its leaders and opted to stay at his wife's farmhouse, off a dirt road outside the capital, Montevideo. The president and his wife work the land themselves, growing flowers.
This austere lifestyle – and the fact that Mujica donates about 90% of his monthly salary, equivalent to $12,000 (£7,500), to charity – has led him to be labelled the poorest president in the world.
'I don't feel poor'
"I'm called 'the poorest president', but I don't feel poor. Poor people are those who only work to try to keep an expensive lifestyle, and always want more and more," he says. "This is a matter of freedom… I may appear to be an eccentric old man… But this is a free choice."
The Uruguayan opposition says the country's recent economic prosperity has not resulted in better public services in health and education, and for the first time since Mujica's election in 2009 his popularity has fallen below 50%. However, he doesn't have to worry too much about his popularity rating – Uruguayan law means he is not allowed to seek re-election in 2014. Also, at 77, he is likely to retire from politics altogether before long. When he does, he will be eligible for a state pension – and unlike some other former presidents, he may not find the drop in income too hard to get used to.
Do you admire Jose Mujica for the modest lifestyle that he maintains considering he is Uruguay's president? Share your thoughts about this post!
Source: BBC News
Image: Imgur