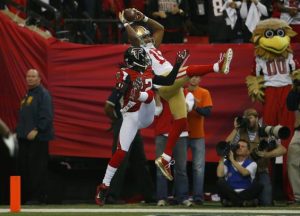 A football game isn't willing to lose your life over, please be careful. There has been an outbreak of fan violence this year that has been very sad to see. It is better to walk away from the situation before it escalates into something more serious, like what happened below at the Georgia Dome.
'Verbal altercation'

A witness told Channel 2′s Rachel Stockman the fight started after a 49ers fan passed by an upset Falcons fan. They exchanged words and at some point, the verbal altercation turned violent.

The Falcons fan then punched the 49ers fan. The 49ers fan pulled out a knife and somehow got cut in the throat area, the witness said.
'Never throw a punch'
Hopefully the fan is okay, but never throw a punch because you never know if someone has a gun or knife and won't be afraid to use it.
Have you ever been in a heated argument because of an outcome of a game? Are you still rooting for the 49ers or for the Falcons? Feel free to comment on this recent issue and what should be done to avoid another violent and bloody incident from occurring! Share your thoughts via the comment box below!
Source: Robert Littal, Black Sports Online

Image: NY Daily News