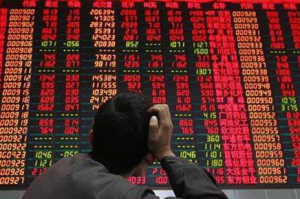 Stocks have fallen on fears over the health of the global economy, after last week's weak US jobs data and persistent fears over the eurozone.
Figures released on Friday by the US Labor Department showed the smallest growth in employment in five months. The US economy added 120,000 jobs during March, less than the 200,000 widely predicted by analysts. Investors in Europe were given their first chance after the Easter break to react to Friday's disappointing US jobs data. The figures raised fears about the strength of the recovery in the US economy.
Meanwhile, the interest rate on Spanish bonds traded in the secondary market continued to rise. The yield on 10-year bonds hit 5.99%, up from 5.74% on Monday, indicating that investors are getting increasingly concerned about Spain's ability to repay its debts.
Investors in Europe also had an eye on Chinese data showing a rise in exports but a sharp fall in imports, while a report from the Organisation for Economic Co-operation and Development (OECD) also gave mixed messages. It identified a "potential turning point in economic activity in the euro area and regained momentum in other major economies", particularly the US and Japan.
But the report also talked of "diverging" economies in Europe, with Germany and the UK showing a "positive change in momentum" but France and Italy displaying "continued sluggish activity". Analysts noted general caution ahead of the first quarter reporting season in the US, beginning later on Tuesday with aluminium giant Alcoa.
Source: BBC News
Image: Asia Bizz