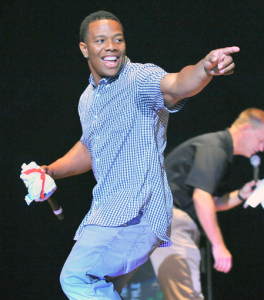 Baltimore Ravens' running back Ray Rice has long been a proponent of anti-bullying campaigns, hosting several rallies for the cause in 2012. When he heard to story of Bailey O'Neill, Rice was moved to act.
'Beaten up by classmates'
Bailey, a student at Darby Township School in Pennsylvania, recently died after being placed in a medically-induced coma. Bailey had been beaten up by classmates who had bullied him. He started to suffer seizures days after the beating, and his doctors put him in the coma to stop the seizures.
While law enforcement is continuing to investigate the incident and Bailey's death, Rice spoke up for Bailey on his Facebook wall.
"…After learning last Thursday that doctors said Bailey had no longer had any brain activity, I reached out to the family and was able to spend about 45 minutes on the phone with them. I could hear their sadness, worry, frustration and grief. They would be faced with removing their son, cousin, nephew, and best friend from life support…



'Just another bully statistic'
I don't know if we will ever get to a point where bullying is actually considered a CRIME, rather than "kids being kids" or a "playground incident."

Bailey – my little buddy, I will not let you become just another bully statistic…you are my inspiration and one more angel that will help me continue the fight for kids everywhere. You are going to help me save lives. RIP my little friend."
Rice got permission from the family before posting this message. His promise to fight for kids everywhere was not an empty one, as he started to raise money for anti-bullying efforts soon after writing this post.
Why do you think some kids bully other kids? Have you ever been a victim of bullying?
Source: Maggie Hendricks, Yahoo Sports
Image: Explore Howard