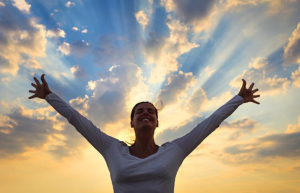 Postures that are open and expansive usually reflect power. On the contrary, people who feel powerless hunch, contract, and make themselves smaller. When we talk about power, the mind shapes the body.
'Stressful interaction'
Before entering a stressful interaction or situation, preparatory power posing can be done by taking a few minutes to open up, occupy more space, and make yourself bigger. Do this by standing with your feet apart, hands on your hips, and reach out to form a 'V' with your arms. If you are sitting down, you may do this by propping up your feet on a desk or table, leaning back with your fingers interlaced behind your head, and elbows pointing out. You can do this anywhere you can find a couple of minutes of privacy.
Who can best benefit from power posing? Among these people are those who have are recuperating from serious sicknesses, injuries, and losses; unemployed people who are frustrated from a long time of fruitless job-hunting; young women struggling with a sexist working environment; people in the midst of abusive relationships; artists preparing for performances; would-be students wanting to return to their education; athletes in training; and those who have to confront bullies everyday.
'Intrapersonal power'
To some, the word "power" can trigger a negative vibe because they are afraid of it. However, there is one kind of power that should not cause people to shy away from you, and that is intrapersonal power. It is not about interpersonal dominance. It is all about taking off the fears and inhibitions that prevent people from unleashing their potentials. When people are at their fullest selves, they can communicate and connect freely. Wouldn't everyone want to be in a world where everybody feels the same way?
So, the next time you are about to walk into a stressful situation or confrontation, take a step back, find a corner where you can have solace, and take two minutes to do the preparatory power posing. Then, tell us how it has empowered and enriched your life!
Do you shy away from confrontations and stressful situations? How do you deal with difficult challenges?
Image: Business Chicks