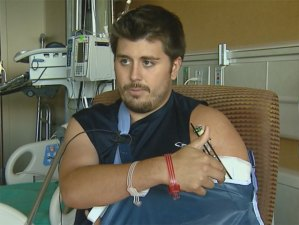 It would be understandable for the victims of the Colorado theater shooting and their families to want retribution. But Pierce O'Farrill, a 28-year-old who was shot three times in the Aurora massacre, says he has forgiven James Holmes, the suspected shooter in last week's Aurora, Colo., massacre.
"Of course, I forgive him with all my heart," O'Farrill told reporters shortly before his release from the Univ. of Colorado Hospital on Wednesday. "When I saw him in his hearing, I felt nothing but sorrow for him–he's just a lost soul right now."
O'Farrill–a staffer at the Denver Rescue Mission, a Christian charity organization that helps "people at their physical and spiritual points of need, with the goal of returning them to society as productive, self-sufficient citizens"–told the Denver Post he would eventually like to meet Holmes.
"I want to see him sometime," O'Farrill, one of 58 people wounded in the shooting, said. "The first thing I want to say to him is 'I forgive you,' and the next is, 'Can I pray for you?'"
O'Farrill's compassion is in stark contrast to the brother of Jessica Ghawi, one of 12 people killed in Friday's "Dark Knight Rises" rampage. Jordan Ghawi did not attend Holmes' first court appearance on Monday because he feared he might try to avenge his sister's death. Holmes appeared dazed as a judge told him he would be held without bond on suspicion of first-degree murder. But Ghawi, who described Holmes as a "coward and a genius," did not buy it.
If you were in the same situation as Pierce O'Farrill, would you be able to forgive James Holmes for his act of violence? Do you think Holmes is just faking insanity when he went on the said shooting rampage?
Image: CBS Denver