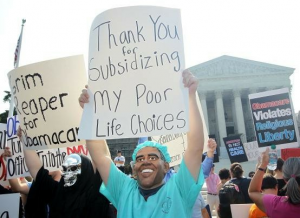 In a victory for President Barack Obama, the Supreme Court upheld his signature health care law's individual insurance mandate in a 5-4 decision, upending speculation after hostile-seeming oral arguments in March that the justices would overturn the law. The mandate has been upheld as a tax, with Chief Justice John Roberts, a Bush appointee, joining the liberal wing of the court to save the law.
Twenty six states sued over the law, arguing that the individual mandate, which requires people to buy health insurance or face a fine starting in 2014, was unconstitutional. Opponents cast the individual mandate as the government forcing Americans to enter a market and buy a product against their will, while the government countered that the law was only regulating a market that everyone is already in, since almost everyone will seek health care at some point in his or her life.
Though the sweeping, 1,000-page plus law passed more than two years ago, much of it will not go into effect until 2014. That's when states will have to set up their own health insurance exchanges, payroll taxes will go up on higher-income workers, and Americans will have to buy health insurance (for many, with a government subsidy) or pay a penalty of 1 percent of their income to the IRS. (The penalty increases to 2.5 percent by 2016.)
Employers who have more than 50 employees and don't offer insurance will also begin to face a penalty. Insurers will no longer be able to turn away people with preexisting conditions, or charge people higher premiums based on their gender or health.
In August, health care plans will have to offer preventative services–including birth control–at no extra cost to customers. An estimated 32 million uninsured people will gain coverage under the law, according to the Congressional Budget Office.
So, let's join the uproar: Are you for or against Obamacare? Tell us what you think of this health care law!
Image: Examiner