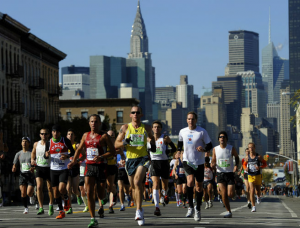 Hundreds of runners in New York City are refusing to let a canceled marathon spoil their Sunday plans and are channeling months of preparation into informal runs intended to benefit victims of superstorm Sandy.
'Divert resources'
Amid criticism from victims of Monday's storm that the race would divert resources from efforts to help flood-ravaged parts of the city, Mayor Michael Bloomberg on Friday canceled the marathon. The event, scheduled for Sunday, had been expected to draw more than 40,000 runners to the city.
Early Sunday, more than 1,000 people, many of whom had planned to run the race, crowded onto two Staten Island Ferry boats, headed to the stricken borough with relief supplies ranging from food to plastic bags to help residents store belongings from damaged or destroyed homes.
'Raise money for a cause'
The idea for the Staten Island run came from Jordan Metzl, a 46-year-old doctor of sports medicine, and his running friends just as the debate was heating up last week about whether storm-battered New York City should hold a marathon. He was discouraged that the running community was being perceived so negatively when it holds so many races to raise money for a variety of causes.
The runners will take different routes across Staten Island and distribute supplies along the way. Other informal runs will be held on Sunday that loop around Central Park – the original 1970 route of the New York City marathon. Metzl, who has run 29 marathons in his life, said it would be pointless to let well-trained bodies go to waste.
Do you think cancelling the Staten Island marathon was a good idea? How would you be able to help the victims of superstorm Sandy?
Image: News Talk