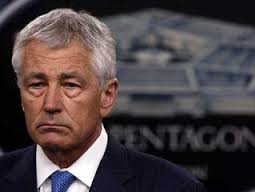 American forces are "ready" to launch strikes on Syria if President Barack Obama chooses to order an attack, US Defence Secretary Chuck Hagel says.
'Must be held accountable'
The White House said the US would release intelligence on last week's suspected attack in the next few days. Prime Minister David Cameron said the world could "not stand idly by" after seeing "appalling scenes of death and suffering" caused by suspected chemical weapons attacks.
The crisis follows last Wednesday's suspected chemical attack near the Syrian capital, Damascus, which reportedly killed more than 300 people.
US Vice President Joe Biden said there was "no doubt who was responsible for this heinous use of chemical weapons in Syria: The Syrian regime". In a speech to a veterans' group in Houston, Mr Biden said that "those who use chemical weapons against defenceless men, women, and children… must be held accountable".
'Western intervention'
French President Francois Hollande said France was "ready to punish" whoever was behind the attack, and had decided to increase military support for Syria's main opposition. Meanwhile the Arab League said it held Syrian President Bashar al-Assad responsible for the attacks and called for UN action. Syrian opposition sources have said they have been told to expect a Western intervention in the conflict imminently.
Russia and China, allies of the Syrian government, have stepped up their warnings against military intervention, with Moscow saying any such action would have "catastrophic consequences" for the region.
Syrian Foreign Minister Walid Muallem has said he rejects "utterly and completely" claims that Syrian forces used chemical weapons, and his government has blamed rebel fighters.
Do you believe the Syrian regime itself is responsible for the said chemical attacks that killed over 300 citizens? Do we see a war with western countries looming over Syria?
Source: BBC News
Image: 23 ABC