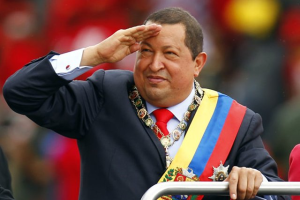 Venezuela's President Hugo Chavez has died aged 58, after 14 years in power. Mr Chavez had been seriously ill with cancer for more than a year, undergoing several operations in Cuba, and had not been seen in public for several months. Foreign Minister Elias Jose Jaua Milano declared seven days of mourning and said Mr Chavez's body would lie in state until his funeral on Friday.
'Interim president'
Vice-President Nicolas Maduro would assume the presidency until an election was called within 30 days, he added. It was not immediately clear when the election would take place.
Mr Chavez's illness prevented him from taking the oath of office after he was re-elected for a third term in October and the President of the National Assembly, Diosdado Cabello, had been expected by some to take over as interim president in the event of his death. However, he was not among the political and military leaders who flanked the vice-president when he announced Mr Chavez's death.
'Vocal and controversial'
Analysts say Mr Chavez's death could alter the political balance in Latin America – dealing a blow to leftist states while favouring more centrist countries. There could also be an economic impact given that Venezuela sells oil at below market prices to some neighbouring countries, especially in the Caribbean.
One of the most visible, vocal and controversial leaders in Latin America, Hugo Chavez won the presidency in 1998 and had most recently won another six-year presidential term in October 2012. His government has implemented a number of "missions" or social programmes, including education and health services for all. But poverty and unemployment are still widespread, despite the country's oil wealth.
Who do you think will take the place of Hugo Chavez as Venezuela's new President? And what major changes could take place as a result of this sad happening?
Source: BBC News
Image: The Washington Times