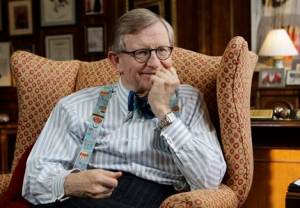 Ohio State president E. Gordon Gee announced on Tuesday afternoon that he plans to retire from his post, a move that will go into effect on July 1.
'Wrong side of the microphone'
Gee's retirement announcement comes on the heels of a scandal, per ESPN.com, regarding comments he made about the University of Notre Dame and the Southeastern Conference at the school's Athletic Council last December.
Gee has been a source of controversy for Ohio State for quite some time. In addition to his comments about Notre Dame, the SEC and the pitfalls of what the Irish in the Big Ten would mean for the conference, Gee has been on the wrong side of the microphone about his state's governor and comparing the coordination of Ohio State's division to the Polish Army (via ESPN).
'Off-the-wall statements'
He also took to defense of his football team's non-conference schedule in 2010, taking issue with the resumes that non-BCS schools (at the time) TCU and Boise State had going into bowl season (via this ESPN report). Gee noted that Ohio State's schedule was challenging and used the now-infamous phrase, "We do not play the Little Sisters of the Poor."
Always apologetic following his off-the-wall statements, Gee's favor with university officials steadily ran out over the course of his tenure with the Buckeyes. His latest gaffe proved to be his undoing and will likely be the long-lasting memory associated with his time at Ohio State.
Is retiring the right decision for Gordon Gee at this moment? Feel free to share your opinion via the comment box below!
Source: Ethan Grant, Bleacher Report
Image: Cleveland.com