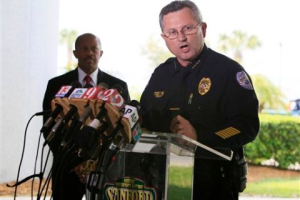 The George Zimmerman investigation was hijacked "in a number of ways" by outside forces, said the former police chief of Sanford, Florida.
'Placate the public'
Bill Lee, who testified Monday in Zimmerman's second-degree murder trial, told CNN's George Howell in an exclusive interview that he felt pressure from city officials to arrest Zimmerman to placate the public rather than as a matter of justice.
When Sanford police arrived on the scene on February 26, 2012, after Zimmerman fatally shot unarmed 17-year-old Trayvon Martin, they conducted a "sound" investigation, and the evidence provided no probable cause to arrest Zimmerman at the scene, he said. It had nothing to do with Florida's controversial "Stand Your Ground" law, he said; from an investigative standpoint, it was purely a matter of self-defense.
'Outside influence'
"The police department needed to do a job, and there was some influence — outside influence and inside influence — that forced a change in the course of the normal criminal justice process," Lee said. "With all the influence and the protests and petitions for an arrest, you still have to uphold your oath… That investigation was taken away from us. We weren't able to complete it," he said.
Lee was placed on paid leave March 22, 2012, after the Sanford City Commission expressed a lack of confidence in him. The same commission rejected his resignation in a 3-2 vote a month later, with dissenting commissioners questioning the fairness of Lee's losing his job. Two months later, Lee was sacked.
Lee believes lack of confidence did play a role in his dismissal, he told CNN, but he also believes Bonaparte faced political pressure and terminated him "without cause," which was permitted under his employment contract.
What do you think went wrong with the investigation? What is your verdict for George Zimmerman?
Source: Eliott C. McLaughlin | CNN
Image: Time