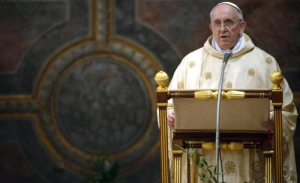 Pope Francis has said gay people should not be marginalised but integrated into society.
'Who am I to judge them?'
Speaking to reporters on a flight back from Brazil, he reaffirmed the Roman Catholic Church's position that homosexual acts were sinful, but homosexual orientation was not. He was responding to questions about whether there was a "gay lobby" in the Vatican.
"If a person is gay and seeks God and has good will, who am I to judge them?"
He also said he wanted a greater role for women in the Church, but insisted they could not be priests.
'Less judgemental'
The Pope arrived back in Rome on Monday after a week-long tour of Brazil – his first trip abroad as pontiff – which climaxed with a huge gathering on Rio de Janeiro's Copacabana beach for a world Catholic youth festival. Festival organisers estimated it attracted more than three million people.
His remarks on gay people are being seen as much less judgemental than his predecessor's position on the issue. Pope Benedict XVI signed a document in 2005 that said men with deep-rooted homosexual tendencies should not be priests. But Pope Francis said gay clergymen should be forgiven and their sins forgotten.
Do you agree with Pope Francis' statements? Do you think gays can become priests?
Source: BBC News
Image: Al Jazeera