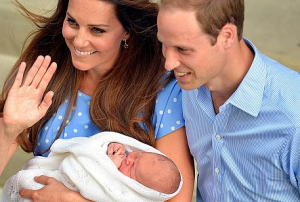 The Duke and Duchess of Cambridge have named their son George Alexander Louis, Kensington Palace has said. The third in line to the throne, who was born on Monday at 16:24 BST, will be known as His Royal Highness Prince George of Cambridge.
'Traditional royal name'
The duke and duchess had been expected to pick a traditional royal name for their son, who was born at St Mary's Hospital in London, weighing 8lbs 6oz. Royal infants usually have historical names which are passed down through the generations.
There have been six King Georges up to now, most recently the Queen's father, although his first name was Albert and he was known to his family as Bertie. The name Louis is Prince William's fourth name and is likely to be a tribute to Lord Louis Mountbatten, the Duke of Edinburgh's uncle and the last British Viceroy of India before independence in 1947.
'A tribute'
The prince's other middle name – Alexander – is one that three medieval Scottish kings have had, and was also the name of the famous 4th Century ruler Alexander the Great. The Queen's middle name is Alexandra.
BBC royal correspondent Nicholas Witchell said George will be seen as a tribute to the Queen's father but the couple are said to genuinely like the name themselves. Alexander was a favourite of Catherine's, he added. As well as being an established regal name, George is also a saint's name. St George was an early Christian martyr and is the patron saint of England.
The announcement of the new prince's name has been relatively quick compared with previous royal babies. It was seven days before the name of a newborn Prince William was announced in 1982, and there was a wait of a month following Prince Charles's birth in 1948.
Did you guess the Royal Baby's name correctly? Tell us what you think His Royal Highness Prince George of Cambridge would be like when he grows up!
Source: BBC News
Image: Euro News