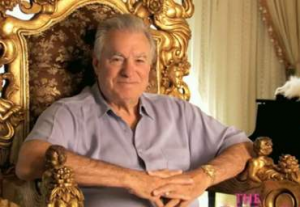 David Siegel, the owner of Westgate Resorts, sent a surprising email to his employees Monday. It said that if President Barack Obama wins re-election and raises Siegel's taxes, he will have to lay off workers and downsize his company – or even shut it down.
David Siegel is the man who, together with his wife, Jackie, built the largest new house in America, known as "Versailles." They became symbols of outsized spending, debt and real estate in America. But when the company started buckling under $1 billion in debt during the crisis, the Siegels' home went into foreclosure and was put up for sale. They cut back on the jet, took the kids out of private school and gave up some of their staff.
So why is David Siegel – a man who defined excess and debt in the 2000s – now saying that debt and spending are ruining the country?
I asked David during a phone interview last night, and he told me that this was about his workers, not himself. He said his own finances have vastly improved. He has paid off all of his major lenders. He said the loan for Versailles is paid off and he's resuming construction on the home. He has learned his own painful lesson from the debt crunch. "We cut back, we're lean and mean. That's what the rest of the country has to do."
Siegel said he's not acting out of self interest, but for the interest of his workers. While Westgate has never been more profitable, the company has 5,000 fewer workers than in 2007. He said that if Obama is re-elected and imposes Obamacare and higher taxes, he may just have to let more of his remaining 7,000 workers go. He said he might even shut down the company.
Do you agree or disagree with David Siegel? Are you pro-Obama or pro-Romney?
Image: Nation of Change