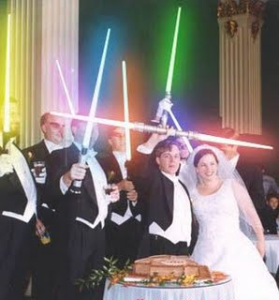 Proposed changes to marriage would open the way for Star Wars Jedi to perform ceremonies, The Free Church of Scotland said. The Marriage and Civil Partnership (Scotland) Bill will allow them to do so. A spokeswoman said the reputation of Scottish ceremonies would be protected.
'Third category'
The Free Church of Scotland has raised concerns about religious and civil partnership ceremonies being joined by a third category. Church spokesman, the Reverend Iver Martin, told BBC Alba:
"The third category is quite astonishing because it is the so-called belief category without really defining what belief means. There are loads of people in a diverse society like this for whom belief can mean virtually anything – the Flat Earth Society and Jedi Knights Society – who knows?

"I am not saying that we don't give place to that kind of personal belief, but when you start making allowances for marriages to be performed within those categories then you are all over the place."
'Public consultation'
The Scottish government is holding public consultation on bill. A spokeswoman said that the bill made clear the government's determination to ensure the continued reputation of Scottish marriage ceremonies.
The spokeswoman added: "We are proposing the introduction of tests which a religious or belief body would have to meet before they could be authorised to solemnise marriage."
Jedi knights are characters in the Star Wars franchise, which includes books, comics, toys and films. Disney, which owns the rights to the franchise, is preparing to release new movies. Various groups promote interest in the Jedi and include the Jedi Knight Society – which offers lessons from Master Yoda – and Temple of the Jedi Order.
Do you think allowing the Jedi to conduct marriages is a good idea? Feel free to share your insights here regarding this controversial issue.
Source: BBC News
Image: First Things