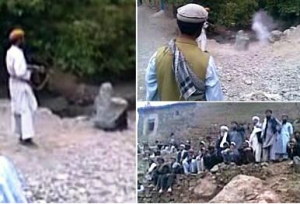 Afghan President Hamid Karzai ordered the arrest Monday of the Taliban who participated in the public execution of a woman accused of adultery. Shock and outrage have mounted since an amateur video surfaced of a burqa-clad woman sitting on the ground while a man standing a few feet away shoots her nine times before a cheering mob.
Officials in Afghanistan, where the amateur video was taken, believe the woman was executed because two Taliban commanders had a dispute over her, according to the governor of the province where the killing took place. Both apparently had some kind of relationship with the woman, Parwan province Gov. Abdul Basir Salangi said.
To save face, they accused her of adultery, Salangi told CNN on Sunday. Then they "faked a court to decide about the fate of this woman and in one hour, they executed the woman," he added. Both Taliban commanders were subsequently killed by a third Taliban commander, Salangi said. Karzai called on officials to track down everyone involved, including those in the video.
The killing took place in the village of Qimchok in Shinwari district, just north of the capital of Kabul. Karzai described those involved in the shooting death as "cowards," saying "such crimes are unforgivable both in Islam and under our country's laws," the statement from his press office said.
The public execution is the latest and among the most shocking examples of violence against women in Afghanistan, but it is far from an isolated case. Nearly nine out of 10 women suffer physical, sexual or psychological violence or forced marriage at least once in their lifetimes, Human Rights Watch said in its 2012 annual report.
Do you think those involved in the woman's public execution will really be caught and punished? What reforms should be undertaken to raise the level of protection for the Afghan women?
Source: CNN
Image: Viasat 1 News