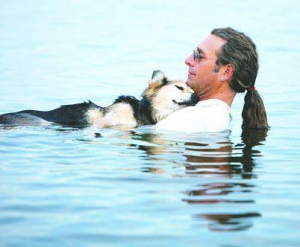 A photograph of a 19-year-old arthritic dog taking a relaxing dip in Lake Superior has captured the hearts of millions online.
The image was posted to Facebook by photographer Hannah Stonehouse Hudson, who wrote: "This 19-year-old [Schoep is] being cradled in his father's arms last night in Lake Superior. Schoep falls asleep every night when he is carried into the lake. The buoyancy of the water soothes his arthritic bones. Lake Superior is very warm right now, so the temperature of the water is perfect. I was so happy I got to capture this moment for John [Unger]. By the way, John rescued Schoep as an 8-month-old puppy, and he's been by his side through many adventures :)."
The photo, first posted last week, has been viewed more than 2 million times and has received more than 200,000 "likes" from Facebook users. In the picture, the dog appears to be asleep while being cradled in Unger's arms as the two wade in the lake.
"John lives his life in a kind way. He rescued this dog as a puppy, they have gone everywhere together ever since. Schoep has arthritis now, and John finds that the water is therapeutic. He is the kind of person who wants his animals to be comfortable…" Hudson told the Pioneer Press.
After a busy week shooting wedding photos, Hudson says she was shocked at how quickly the photograph grew in popularity. Hudson is selling prints of the photo, "John & Schoep," on her website and says she'll donate a percentage of the sales to help pay for Schoep's veterinarian bills.
Now, ain't that photo just heartwarming? How about you — how do you take care of your pets? Share your most touching pet stories with us!