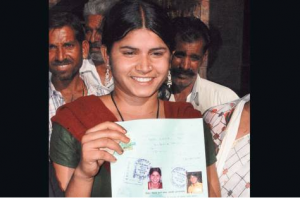 A young woman has had her child "marriage" legally annulled in northern Rajasthan state, in what is thought to be the first case of its kind in India.
Laxmi Sargara, 18, wed Rakesh when she was just one and he was three. She grew up with her own family, only finding out she was married when her in-laws came to claim her this month.
Child marriages are illegal in India but are still common in many parts of the country, especially in rural and poorer communities. She knew nothing of her future life until a few days ago when her groom's family came to take her home with them to start her new life as Rakesh's wife.
After appealing to her parents Laxmi sought help from a local non-governmental organisation, the Sarathi Trust in Jodhpur city. At first Rakesh wanted to go ahead with the marriage. But he relented after counselling from the NGO. Since child marriages are not legal under India's Prohibition of Child Marriage Act, both Laxmi and Rakesh signed an affidavit declaring the marriage null and void in the presence of a notary public in Jodhpur.
Narayan Bareth, a journalist in the state capital Jaipur, says a recent survey found that 10% of girls in Rajasthan are married off before the age of 18. There have been several cases of young girls refusing to get married in India but these are rare cases, correspondents say. According to Unicef, 40% of the world's child marriages take place in India, although recent efforts to stop the practice mean the number of such marriages has declined.
What is your view regarding child marriages? Feel free to share your thoughts below!
Source: BBC News
Image: Gulf News