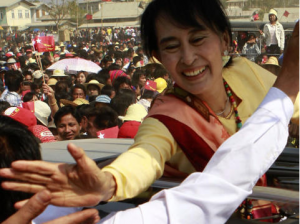 Burma's Nobel laureate Aung San Suu Kyi has won a by-election for parliament, her party says, after a landmark vote that saw 45 seats contested.
Ms Suu Kyi's opposition National League for Democracy (NLD) said she had easily won in Kawhmu. Official results are not expected until later in the week. The vote is a key test of political reforms, though the army and its allies dominate the 664-seat parliament. The NLD was competing in its first elections since 1990. Thousands of people who gathered outside the NLD headquarters in Rangoon danced and cheered at reports that Ms Suu Kyi had won her seat.
Even if the NLD wins most of the 44 seats it is contesting, the army and its proxy Union Solidarity and Development Party (USDP) will still hold about 80% of seats in parliament. During the campaign, foreign journalists and international observers were given the widest access for years. The European Union hinted that it could ease some sanctions if the vote went smoothly.
Burma's current government is still dominated by figures from the old military regime that ruled the country for decades and was accused of widespread rights abuses. But since 2010, when a political transition began, the government has impressed observers with the pace of change. Most political prisoners have been freed, media restrictions have been relaxed and, crucially, Ms Suu Kyi and the NLD have been persuaded to rejoin the political process.
They have taken no part in Burma's politics since 1990, when the NLD won a landslide victory in a general election but the military refused to accept the result. Ms Suu Kyi spent much of the following 20 years under house arrest and refused to take part in the 2010 election, which ushered in the current reforms.
Source: BBC News
Image: CBS News