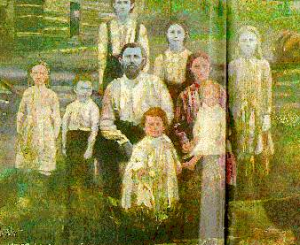 Benjamin "Benjy" Stacy so frightened maternity doctors with the color of his skin — "as Blue as Lake Louise" — that he was rushed just hours after his birth in 1975 to University of Kentucky Medical Center.
In an unusual story that involves both genetics and geography, an entire family from isolated Appalachia was tinged blue. Their ancestral line began six generations earlier with a French orphan, Martin Fugate, who settled in Eastern Kentucky. Doctors don't see much of the rare blood disorder today, because mountain people have dispersed and the family gene pool is much more diverse. But the Fugates' story still offers a window into a medical mystery that was solved through modern genetics and the sleuth-like energy of Dr. Madison Cawein III, a hematologist at the University of Kentucky's Lexington Medical Clinic.
The most detailed account, "Blue People of Troublesome Creek," was published in 1982 by the University of Indiana's Cathy Trost, who described Benjy's skin as "almost purple." The Fugate progeny had a genetic condition called methemoglobinemia, which was passed down through a recessive gene and blossomed through intermarriage.
Methemoglobinemia is a blood disorder in which an abnormal amount of methemoglobin — a form of hemoglobin — is produced, according to the National Institutes for Health. In methemoglobinemia, the hemoglobin is unable to carry oxygen. Patients' lips are purple, the skin looks blue and the blood is "chocolate colored" because it is not oxygenated, according to Tefferi.
ABCNews.com was unable to determine if Benjamin Stacy is still alive — he would be 37 today. Trost writes that he eventually lost the blue tint to his skin, but as a child his lips and fingernails still got blue when he was angry or cold.
Source: Yahoo News
Image: Nclark