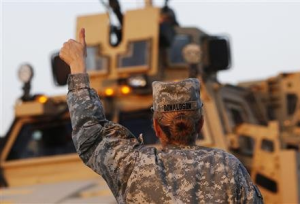 In the early 90's, the United States Department of Defense banned women from entering ground combat units and the ban has continued up until recently, when the military has finally decided to lift it. At last, the U.S. military will reopen combat jobs to female soldiers.
'Sexist policy'
Women have already been performing combat roles, but they have not been receiving the same training or recognition that their male counterparts have. The lift on this ban resulted from the Americal Civil Liberties Union suing the Pentagon over this sexist policy.
This change in military policy has been met with mixed opinions. Some contested the end to the ban for the reason that most women are incapable of performing military duties in the same level that men are. They say women should not be allowed to serve in the military because the job is too heavy, the hygiene practices are too unfit, and the emotional toll is too much for the delicate structure of a woman. On some situations, soldiers in the combat field go up to 15 days without a single shower, so what if a woman has her monthly period. Can she cope with this situation? Are women too "fragile" for this kind of environment?
'It does not matter'
As for those who support this change, they say that it does not matter if you are a man or a woman, gay or straight, black or white — just as long as you are able to perform the job. And history has proven time and again, most women are up to it. They just need to be given ample opportunity. Women perform so many jobs that are more difficult than that of men, so allowing them to serve in the military is just another addition to their long list of job opportunities.
Do you agree that women should be allowed to serve in ground combat units? Do you know some women who have served in combat duty? Tell us how they have coped with the demands of this type of job!
Image: Yahoo News