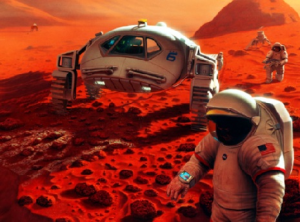 A Dutch company called Mars One began looking Monday for volunteer astronauts to fly to Mars. Departure for the Red Planet is scheduled for 2022, landing seven months later in 2023. The space travelers will return … never. They will finish out their lives on Mars, representatives from the nonprofit said.
'Build a colony'
The company announced a casting call for candidates at a news conference in New York City. Anyone 18 or older may apply via video but there is an application fee — $38 for U.S. applicants. The money will fund the mission.
Mars One wants to build a colony that will be able to grow with an ever-expanding crew. The group has a plan for testing the technology that would transport people and things. The group wants to launch a supply mission that will land on Mars as soon as October 2016.
Once selected, a group of 40 astronauts will undergo seven years of training. The flight to Earth's neighbor, with its barren red desert landscape and thin carbon dioxide atmosphere, sounds almost worse than a lifetime on it. The crew of four will be cooped up on a rocket for seven months with a limited supply of food and water.
'Decades-long reality show'
Mars One plans to fund the mission partly from the sale of technology developed during the mission, CEO Bas Lansdorp said. Media coverage will provide the main funding for the mission, Mars One said. Publicity is key, and the media event begins now with the casting of the astronauts.
Lansdorp said that after consulting with media experts and ad agencies, he's confident life on Mars will remain a hit for decades on Earth and will be able to weather any financial crisis or war on Earth. If all goes well, Earthling television viewers can look forward to a decades-long reality show, though Lansdorp said the astronauts will be allowed to turn the cameras off at times.
Are you willing to leave your life on Earth and reside in Mars permanently? Do you think this project will be a hit?
Source: Ben Brumfield and Elizabeth Landau, CNN
Image: The Weather Network