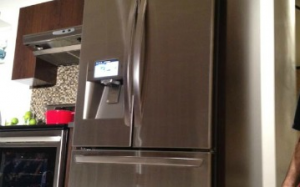 LG is paving the way for a new era in smart appliances. From a refrigerator that helps you diet and keeps track of your groceries, to a robot that vacuums via smartphone control, LG is giving the household a whole new tech makeover.
The company announced at the 2012 Consumer Electronics Show an array of new products to its Smart ThinQ appliance line. At the forefront of its new line is its refrigerator, which just got a lot smarter with a health manager feature that allows you to maintain your diet, send recipes to your smart oven and even keeps you posted when you run out of certain groceries. The health manager also customizes family member profiles to cater to each person in the house and can be controlled by voice recognition.
The company also unveiled a fridge feature called Blast Chiller that can chill a bottle of wine in eight minutes. The refrigerator also features French doors, the largest of its kind on the market.
The refrigerator isn't the only device getting an upgrade. LG also unveiled an ultra-fast, eco-friendly washing machine. The TurboWash also fits more clothes in fewer loads and a new LG robot vacuum cleaner will clean up the house as you kick up your feet and relax on the couch while operating the device via a smartphone.
Source: Digg
Image: Mashable