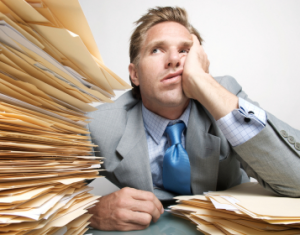 If you happily get out of bed every morning for work, you're one of the lucky ones — not everyone is satisfied with their current job, says a report published by CareerBliss. The company identified the unhappiest jobs based on more than 100,000 employee-generated reviews between February 2011 and January 2012. Here are the top 5 jobs that make workers' lives miserable.
1. Security Officer
Average salary: $29,641
Bliss Score: 3.510/5
"People might think that the work environment security guards often face, such as working late hours alone at night, would be what contributes to unhappiness," Matt Miller, the chief technology officer at CareerBliss told Smith. "However, our data shows that growth opportunities and lack of rewards in this field is what affected the overall sentiment around this type of job. Work environment scored relatively high."
2. Registered Nurse
Average salary: $43,663
Bliss Score: 3.595/5
"Nurses . . . have more issues with the culture of their workplaces, the people they work with and the person they work for," Golledge says.
3. Teacher
Average salary: $43,663
Bliss Score: 3.595/5
CareerBliss' chief executive Heidi Golledge told Smith: "CareerBliss has found through our research that teachers appear to be quite happy with their work and their co-workers. However, the rewards for their work, lack of support and lack of opportunities to be promoted counteract many of the good parts of the job."
4. Sales Engineer
Average salary: $71,283
Bliss Score: 3.636/5

Smith reports that these engineers don't appreciate the "lack of growth opportunities, company's culture, compensation and support."
5. Product Manager
Average salary: $81,865
Bliss Score: 3.648/5
Smith says that these workers "voiced unhappiness with the range of growth opportunities, compensation, company culture and support."
How about you — are you unhappy with your current job? Would you stick with the careers mentioned above despite the challenges? Share your most miserable career moments with us via the comment box below!
Image: Mango Grove