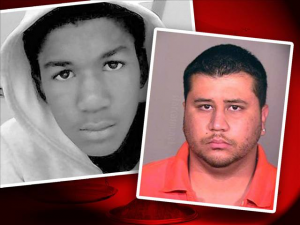 George Zimmerman, a neighborhood watch volunteer who says he was acting in self-defense when he fatally shot teenager Trayvon Martin in Sanford, Florida, has been charged with murder in the second degree, special prosecutor Angela Corey told reporters Wednesday.
Corey said that Zimmerman has surrendered to authorities in Florida and has been arrested. The charge carries a maximum possible sentence of life in prison.
Police say Zimmerman fatally shot Martin, a 17-year-old African-American, on February 26 in Sanford, Florida, after Martin began walking home from a convenience store. Zimmerman, who is Hispanic and was a neighborhood watch volunteer, had called 911 to complain about a suspicious person in the neighborhood. He was released without charges after claiming self-defense, but the case was referred to Corey for a review as thousands converged on Sanford to join in protests calling for Zimmerman's arrest.
Zimmerman's new attorney, Mark O'Mara, said that he expects to file a motion seeking bond for Zimmerman on Thursday. Currently, Zimmerman is being held without opportunity for bond.
O'Mara told CNN by phone that he thinks Zimmerman is "troubled by the fact that the state decided to charge him," but that he "understands what is in front of him," and he's "doing OK."
"He's concerned about getting a fair trial and a fair presentation," O'Mara said. "There's obviously been a lot of information flowing. I think a lot of it has been premature and inappropriate… The worst thing that can happen in this case is that it doesn't get tried properly. Give us our chance to do it the way it's supposed to be done."
Source: CNN
Image: KHQ