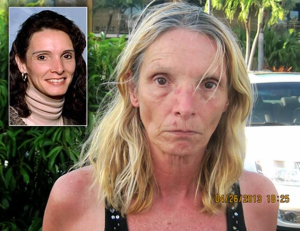 A Pennsylvania woman who mysteriously disappeared 11 years ago has resurfaced in Florida, saying that she just walked out on her family, her life and her problems.
'Very upset'
Brenda Heist, 54, turned herself in to authorities in Key Largo, Florida, on Friday, informing them that she thought she might be wanted in another county. The responding officer checked her name and saw that she was listed as "missing and possibly deceased" from Lititz, Pennsylvania, according to the Monroe County Sheriff's Office in Florida.
Heist disappeared February 2002, after last being seen dropping off her children at school. She was going through a divorce from Lee Heist and was applying for housing assistance so that she could get her own apartment. She worked as a bookkeeper for a car dealer and hoped to receive some financial aid. However, her request was denied, Schofield said earlier.
"She was very upset, she was sitting in a park crying, thinking about how she would raise her children, feeling sorry for herself," he said.
It wasn't long before she was approached by two males and a female who asked her what was wrong. After she told them what had happened, they invited her to hitchhike with them down to Florida.
'Closure'
For the first two years, he said, she was homeless. For the next seven years, she lived in a camper with a man she had met. They made money as day laborers, cleaning boats and doing other odd jobs for which they didn't have to show ID and were paid in cash. After that relationship soured, Schofield said, she lived on the street again for another two years.
Meanwhile, her family remained in Pennsylvania, searching for answers. The investigation continued for several years. In 2010, Lee Heist filed a petition with the county court to have Brenda declared legally deceased, according to the Lititz police news release. It was a measure necessary for closure, he said. He later remarried. Lee Heist said Thursday he was surprised to learn his ex-wife was alive.
Do you think Brenda Heist can still be reconciled with her children? Feel free to share your opinion regarding this situation.
Source: Laura Ly, CNN
Image: NY Daily News