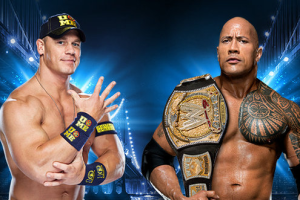 John Cena shocked the world Sunday night at WrestleMania 29 by defeating The Rock for the WWE Championship in the main event of the company's biggest show of the year.
'Worst year of his career'
As big as the title win is for Cena, it comes on the heels of arguably the worst year of his career. Cena lost to the Rock at last year's WrestleMania and was the first superstar in history that cashed in his Money in the Bank briefcase and failed to win the title. The marquee victory Sunday finally puts the current face of the company over the WWE's former top draw; the torch has officially been passed.
Not only does Cena steal the biggest win of his career on the biggest wrestling stage there is, the leader of the CeNation walks out of WrestleMania 29 as the WWE Champion. The victory marks the 11th time Cena has won the company's most prestigious title and the 13th time he has won a WWE world title.
'Invincible'
As great as this victory was for the fans of Cena, The Rock undoubtedly has a rematch clause in the event that he did lose. When he gets that match will be a huge developing storyline. There are rumors that The Rock will be at performing at Extreme Rules 2013 (h/t Wrestling Inc.), and a rubber match between the two megastars would make the secondary pay-per-view unforgettable.
Allowing Cena to have his first title defense against The Rock would be a huge coup for the WWE, and Cena winning would make the WWE champion look invincible.
Which side did you bet your money on during the WWE WrestleMania 29? How about for the possible rematch — Team Cena or Team Rock?
Source: Donald Wood, Bleacher Report
Image: Cage Side Seats