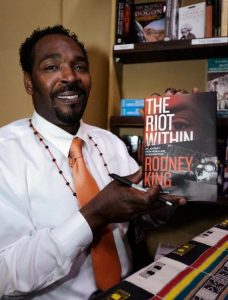 Rodney King, whose beating by Los Angeles police in 1991 was caught on camera and sparked riots after the acquittal of the officers involved, was found dead in his swimming pool Sunday, authorities and his fiancee said. He was 47.
Police in Rialto, California, received a 911 call from King's fiancee, Cynthia Kelly, about 5:25 a.m., said Capt. Randy De Anda. Responding officers found King at the bottom of the pool, removed him and performed cardiopulmonary resuscitation until paramedics arrived. He was pronounced dead at a local hospital, police said. There were no preliminary signs of foul play, De Anda said, and no obvious injuries on King's body. Police are conducting a drowning investigation, he said, and King's body would be autopsied.
King's beating after a high-speed car chase and its aftermath forever changed Los Angeles, its police department and the dialogue on race in America. King was 25 and on parole after a robbery conviction in March 1991. In an interview in 2011, he recalled he had been drinking and was headed home from a friend's house when he saw a police car following him and panicked, thinking he would be sent back to prison. So he attempted to flee. An amateur cameraman caught the scene as four white police officers struck King more than 50 times with their wooden batons and used a stun gun on him. King was beaten nearly to death. Three surgeons operated on him for five hours.
Four LAPD officers — Theodore Briseno, Laurence Powell, Timothy Wind and Sgt. Stacey Koon — were indicted on charges of assault with a deadly weapon and excessive use of force by a police officer. Koon and Powell were found guilty and sentenced to 30 months in prison. Briseno and Wind were acquitted. The other jurors came around, and King was awarded $3.8 million in damages.
King said earlier this year he has forgiven the officers who beat him: "Yes, I've forgiven them, because I've been forgiven many times," he said. "…This country is my house, it's the only home I know, so I have to be able to forgive — for the future, for the younger generation coming behind me, so … they can understand it…"
What do you think caused Rodney King's death? Are you capable of the same degree of forgiveness that King gave to the officers?
Source: CNN
Image: Examiner