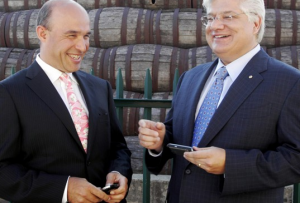 A new report suggests that Research in Motion, the company behind the BlackBerry, is looking to make some changes to its board of directors, changes that could cast aside current co-chairmen Mike Lazaridis and Jim Balsillie.
According to the Financial Post, a committee of independent directors are assessing whether Lazaridis and Balsillie — who also serve as co-CEOs of the beleaguered company — should be replaced as chair.
The Post cites sources familiar with the matter as pegging Barbara Stymiest, who joined the RIM board in 2007, as the leading candidate for replacement. Back in July, RIM agreed to a review of its governance structure. This agreement followed calls from unhappy shareholders for the company to separate the roles of chair and chief executive. As the Post notes, separating the roles of chairman and CEO is more common in Canada and the UK than it is in the United States.  The governance review is expected to be delivered by Jan. 31.
RIM struggled significantly in 2011. Not only did its stock drop dramatically, it cut 2,000 jobs and it wrote-down nearly $500 million on its PlayBook tablet. RIM continues to slash prices on the PlayBook, but that hasn't been enough to stop the decline in market share. Even worse, during its last quarterly earnings call, the company announced that its next-generation BlackBerry 10 devices would be delayed until late 2012.
Source: Mashable
Image: Technorati