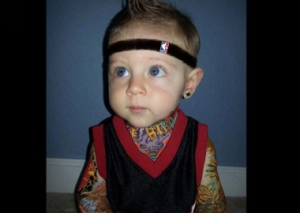 Chris "Birdman" Andersen is adorable. Well, the actual NBA player isn't adorable. I mean, I am sure he is endearing to his friends and some may find him cute, but the real precious individual happens to be the baby in the picture, as he's quite adept at NBA impersonations.
'Too cute!'
That NBA Lottery Pick spotted the following tweet from Miami Heat fan Alexander Balaez that will have you screaming "Too cute!" at the top of your lungs. The resemblance…it's uncanny. Now, as for details, I am at a loss. I have no clue as to why anyone would dress their kid up as the colorful Miami Heat role player—not that I am complaining.
'Faux tattoo session'
While I don't have kids of my own, I would imagine this is pretty much what you do to them before they can dress themselves. Rumor has it you are also supposed to feed and care for them. Current parents, please don't ruin the surprise for me.
The interesting part, aside from the fact that someone had the time and patience needed to decorate an infant like a bona fide Birdman, is that this is just one instance of Andersen envy.
There, you have definitive proof that Chris Andersen can certainly be adorable and that you can certainly get a baby to sit still for a faux tattoo session.
Do you find this "adorable" version of Chris Andersen actually adorable? Would you dress your kid up as Birdman? Feel free to comment on this topic!
Source: Gabe Zaldivar, Bleacher Report
Image: The 305