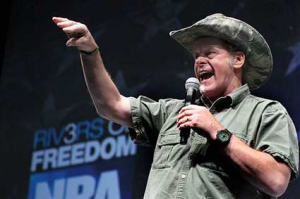 Ted Nugent should be arrested. Not because he doesn't like Barack Obama but because he got up in front of a group of people and insinuated he would attempt to assassinate Obama if he's re-elected.
Nugent's words were: "If Barack Obama is elected, I'll either be dead or in jail this time next year," which sounds to me like he's open to directing his disapproval of Obama in a way that is violent and unlawful. When you see that statement next to Nugent comparing Obama and his colleagues to coyotes that needed to be shot, as well as the need to "ride into that battlefield and chop their heads off in November," I don't see how that rant cannot be looked upon as a threat on the president's life.
I don't care how you feel about Nugent's music or Obama's policies, it seems that if there were a First Amendment line to cross, that would be it. The First Amendment protects freedom of speech but it cannot insulate folks against the social and cultural repercussions that come from saying something offensive.
Obama is hardly the only president to have a U.S. citizen publicly threaten his life. If people don't like the president, they can say that. They can vote against them. They can run. They can leave. But they shouldn't be allowed to go on the Internet or radio and threaten his or her life. I felt that way about George W. Bush, I feel that way about President Obama, and I will feel that way if Mitt Romney gets elected. That's because this conversation isn't about them or the parties they represent. It's about maintaining some level of respect for the office. How can we begin to talk seriously about "restoring America"– whatever that means — when we openly threaten the life of our chief ambassador?
I'm not surprised to hear such comments from Nugent. But I am surprised that in a country with 106 million handguns, 105 million rifles, 83 million shotguns and four assassinated presidents, we don't take such talk more seriously.
How about you, do you think Ted Nugent deserves jail time for threatening Obama's life? Feel free to voice out your opinions!
Source: CNN
Image: US News