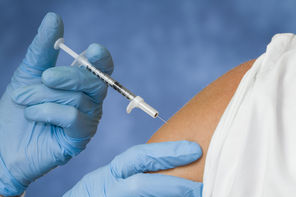 If you're tempted to skip your flu shot, consider this: Getting vaccinated cuts risk for a heart attack or stroke by up to 50 percent, according to two studies presented at the Canadian Cardiovascular Congress.
'Flu vaccine is a heart vaccine'
Scientists from TIMU Study Group and Network for Innovation in Clinical Research analyzed published clinical trials involving a total of 3,227 patients, half of whom had been diagnosed with heart disease. Participants, whose average age was 60, were randomly assigned to either receive flu vaccine or a placebo shot, then their health was tracked for 12 months.
Those who got the flu shot were 50 percent less likely to suffer major cardiac events (such as heart attacks or strokes) and 40 percent less likely to die of cardiac causes. Similar trends were found in patients with and without previous heart disease. The findings suggest "that flu vaccine is a heart vaccine," lead study author Jacob Udell told Fox News.
'Grim statistic'
A number of studies have shown a link between heart attacks and a prior respiratory infection. A 2010 study of about 78,000 patients age 40 or older found that those who had gotten a flu shot in the previous year were 20 percent less likely to suffer a first heart attack, even when such cardiovascular risks as smoking, high cholesterol, hypertension and diabetes were taken in account.
Scarier still, researchers report that up to 91,000 Americans a year die from heart attacks and strokes triggered by flu. This grim statistic prompted the American Heart Association and American College of Cardiology to issue guidelines recommending vaccination for patients with cardiovascular disease (CVD). The CDC advises flu shots for everyone over six months of age, but cautions that certain people should check with a medical provider before being immunized.
Do you often skip your flu shots? Are you convinced that it can prevent heart attacks?
Image: Toronto Sun