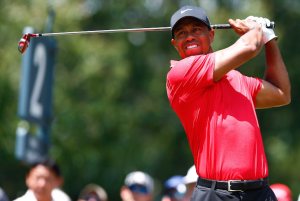 Sergio Garcia's complaint regarding Tiger Woods distracting him during the third round of last week's Players Championship may have been an even bigger story than Woods actually winning the tournament. Now it seems as though Garcia may have been justified.
'Distracted'
According to Michael Bamberger of Sports Illustrated, during Garcia's backswing on the second hole of the third round, Woods pulled a five-wood from his bag, and it elicited a response from the crowd. Garcia then hit a poor shot and later blamed it on the fact that he was distracted.
Woods claimed that course marshals told him Garcia had already played his shot and that it was safe for him to do the same, but chief marshal John North is disputing Woods' assertion. He claims that neither he nor fellow marshal Gary Anderson said anything to Woods.
'Nightmarish end'
Garcia wasn't shy about placing blame on Woods following the incident. He was adamant that Tiger's action and the crowd's subsequent reaction caused him to hit a poor shot. Woods didn't deny pulling the club from his bag during Garcia's swing, but he said he had clearance to play his shot.
It's nearly impossible to know who is telling the truth, but Woods was able to shrug off the incident. He went on to win The Players Championship with a score of 13-under par. Garcia, on the other hand, finished in a tie for eighth as he imploded down the stretch.
It was a nightmarish end to a tournament that had so much promise for Garcia. Woods, meanwhile, has another Players Championship title to his credit as well as the massive winner's purse in his bank account ($1.71 million).
Who do you think is telling the truth here — Tiger Woods, Sergio Garcia, or the marshals? Feel free to share your own speculations with us!
Source: Mike Chiari, Bleacher Report
Image: Game Dayr