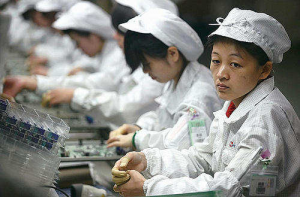 When Barack Obama joined Silicon Valley's top luminaries for dinner in California last February, each guest was asked to come with a question for the president. But as Steven P. Jobs of Apple spoke, President Obama interrupted with an inquiry of his own: what would it take to make iPhones in the United States?
Mr. Jobs's reply was unambiguous. "Those jobs aren't coming back," he said, according to another dinner guest.
The president's question touched upon a central conviction at Apple. It isn't just that workers are cheaper in the international setting. Rather, Apple's executives believe the vast scale of overseas factories as well as the flexibility, diligence and industrial skills of foreign workers have so outpaced their American counterparts that "Made in the U.S.A." is no longer a viable option for most Apple products.
Apple executives say that going overseas, at this point, is their only option. One former executive described how the company relied upon a Chinese factory to revamp iPhone manufacturing just weeks before the device was due on shelves. A foreman immediately roused 8,000 workers inside the company's dormitories, according to the executive. Within 96 hours, the plant was producing over 10,000 iPhones a day.
"The speed and flexibility is breathtaking," the executive said. "There's no American plant that can match that."
To thrive, companies argue they need to move work where it can generate enough profits to keep paying for innovation. Doing otherwise risks losing even more jobs in America over time, as evidenced by the legions of once-proud domestic manufacturers — including G.M. and others — that have shrunk as nimble competitors have emerged.
"We sell iPhones in over a hundred countries," a current Apple executive said. "We don't have an obligation to solve America's problems. Our only obligation is making the best product possible."
Source: Digg
Image: Cult of Mac