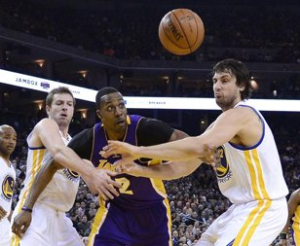 During the second quarter of the Los Angeles Lakers' loss to the Golden State Warriors, Klay Thompson dropped the ball off for David Lee, who went up for a shot at the rim, elbowing Dwight Howard hard in the face. Referees called a foul on Howard, who was in the restricted area. Per Marc J. Spears of Yahoo! Sports, he ended up needing stitches to close the wound.
'I'll remember that shot'
After the game, Howard indicated that he would seek payback against Lee for the elbow:
"He got away with a shot. I'll remember this. I'll remember this game. I'll remember that shot… He said he wasn't trying to do it. You can look at the play and see it for yourself… I'll take care of it later."
Lee went up against Howard at an angle, elbows up and with the front of his body turned completely to the right. With the way he approached the basket, it's no surprise his elbow connected with Howard's mouth. But was it intentional? That's hard to say.
'Premeditated cheap shot'
If I'm the one getting clocked in the jaw, it could certainly be construed as a premeditated cheap shot. From an outside perspective, though, one can also make the case that Lee was simply shielding the ball from one of the best shot-blockers in the league. Either way, Howard doesn't seem to care. All 265 pounds of him seems hell-bent on getting revenge. I shudder to think what he would have done to Lee in the second half if he didn't already have one technical.
Glass half full, at least this shows Howard can taper his emotions when needed. He opted against retribution in favor of remaining in the game to help the Lakers.
Do you think David Lee intentionally elbowed Dwight Howard's mouth or not? What kind of retribution would be waiting for Lee? Team Lee or Team Howard?
Source: Dan Favale, Bleacher Report
Image: Yahoo Sports