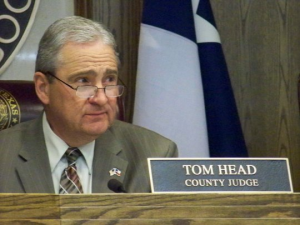 Texas Democrats are calling for the resignation of a Republican elected county judge who warned this week that the nation could descend into civil war if President Barack Obama is re-elected.
The Texas Democratic Party released a statement: "This nonsense is what passes for mainstream in today's Republican Party," the statement said. "It's not only ridiculous, it's dangerous. It's crystal clear that Judge Head should resign."
In remarks this week, Head called for a well-equipped force to battle the United Nations troops that he said Obama might bring in. Saying that as the county's emergency management coordinator he has to "think about the very worst thing that can happen and prepare for that and hope and pray for the best," Head told radio host Jeff Klotzman that he believes "in this political climate and financial climate, what is the very worst thing that could happen right now? Obama gets back in the White House. No. God forbid."
Obama, Head said, will "try to give the sovereignty of the United States away to the United Nations. What do you think the public's going to do when that happens? We are talking civil unrest, civil disobedience, possibly, possibly civil war…"
Attorney Rod Hobson jokingly put up U.N. flags outside his Lubbock office, KJTV reported. "When I saw the story I thought, once again, Lubbock is going to be the laughingstock of the entire nation," Hobson said. "What makes it so sad is he is our elected county judge, who is in charge of a multimillion-dollar budget. That is scary. It's like the light's on, but no one is home. … I'd just like to think he's off his meds."
Do you think Judge Tom Head should resign? What do you think of his controversial remarks? Do you want President Barack Obama to be re-elected?
Source: CNN
Image: Global Grind