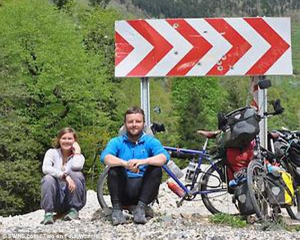 A British couple's round-the-world cycling odyssey ended in  when both of them were killed in a road accident in Thailand. Peter Root and Mary Thompson, who had been chronicling their journey in a blog, died Wednesday when they were hit by a pickup truck in a province east of Bangkok, Thai police said Monday.
'Both experienced cyclists'
The couple, both 34 and from Guernsey in the Channel Islands, left Britain in July 2011 and had cycled through Europe, the Middle East, Central Asia and China. The trip was a once-in-a-lifetime experience for the couple, who met in art school and spent six years saving money and planning their journey, Peter's father Jerry Root told the Associated Press in an interview. He said they were both experienced cyclists who knew the rigors and risks of extended bicycle travel.
The couple had been posting photos and details of their trip on the website Two on Four Wheels. They also had many followers on Twitter and Facebook who were tracing their journey and vicariously enjoying their adventure, which included a trip through remote parts of Central Asia. The couple look tanned, joyous and relaxed — if a bit windblown — in the footage. It is apparent life on the road agreed with them.
'Dangerous driving'
Thai Police Lt. Col. Supachai Luangsukcharoen said Monday that investigators found their bodies, their bicycles and their belongings scattered along a roadside, along with a pickup truck that crashed between some trees.
Supachai said the truck driver, 25-year-old Worapong Sangkhawat, was seriously injured in the crash. He told police his truck hit the cyclists as he was reaching down to pick up a cap from the vehicle's floor, Supachai said. The driver has been released on bail and faces charges of causing death by dangerous driving, which carries a maximum penalty of 10 years in jail.
Would you have been able to take the same risky cycling journey that this couple took? Tell us about the most dangerous trip you've ever had.
Source: Gregory Katz, Yahoo News
Image: In 2 East Africa