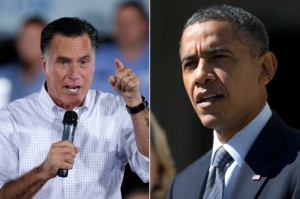 In the hours after the death of the first U.S. ambassador killed in decades, Mitt Romney — panicked as his poll numbers have slipped — punched hard against the president, unleashing an unwise, inaccurate and unpresidential attack on the Obama administration.
The fog of war applies to the confusion about the timeline of ugly incidents in the Middle East on the 11th anniversary of the 9/11 terrorist attacks. But when the U.S. Embassy in Cairo released a statement condemning the obscure and intentionally inflammatory film that had already given rise to riots, the Romney campaign saw an opportunity to amplify its "Obama-Apologizes-For-America" narrative. The campaign released a statement from Romney saying, "It's disgraceful that the Obama Administration's first response was not to condemn attacks on our diplomatic missions, but to sympathize with those who waged the attacks."
This barely qualifies as dog-whistle politics. At a moment when sovereign U.S. soil was under attack by Islamist radicals, the Romney campaign tried to tie the president to those extremists attacking us, saying that he had "sympathy" with their cause. And then, in the clear light of morning, Mitt Romney doubled down on the claim, repeating it — perhaps for fear of appearing weak — and his campaign released talking points to hammer home the point. He picked precisely the wrong time, and over the wrong issue, to go "bold."
This is not just politics as usual but something far lower. No wonder a wide array of Republican foreign policy experts rose to condemn Romney's comments. This "attack and distract" approach to politics is beneath the office; when you criticize there is an obligation to propose new solutions to the problem.
This time, he went definitively too far — trying to score petty political points with incomplete information at a time when our nation's embassies were being attacked overseas on the anniversary of September 11. It was disgraceful.
What is your view regarding Romney's continuous attack on Obama's foreign policy? Was it disgraceful? Feel free to let us know what you think of this!
Source: CNN
Image: The Daily Beast