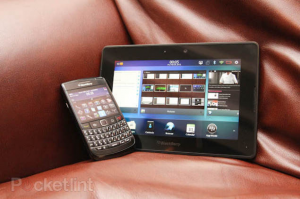 Blackberry-maker Research in Motion (RIM) has said it plans to refocus its business back onto corporate customers.
The Canadian company made a net loss for the three months to 3 March of $125m (£78m), compared with a profit of $934m a year earlier. It has lost ground as its traditional corporate customers have switched staff to iPhones or Android smartphones. RIM also announced the resignation of former co-chief executive Jim Balsillie. Chief technology officer David Yacht will also be standing down.
For the full financial year, the RIM made a net profit of $1.2bn, down from $3.4bn in the previous year. The results were worse than analysts had expected and shares in the company fell as much as 9% in after-hours trading in New York. They have fallen by 80% over the past year. RIM has struggled to keep up with rivals in the smartphone market, such as Apple's iPhone and handsets running on Google's Android operating system. It has also struggled to gain a foothold in the tablet market.
Newly-appointed chief executive Thorsten Heins said the company would now focus on its traditional core market of corporate customers rather than on individual consumers as part of a strategy to turn the business around: "We believe that Blackberry cannot succeed if we tried to be everybody's darling and all things to all people. Therefore, we plan to build on our strength."
Analysts said the company could continue to struggle until it became clear whether this turnaround plan would succeed.
Source: BBC News
Image: Pocket-lint