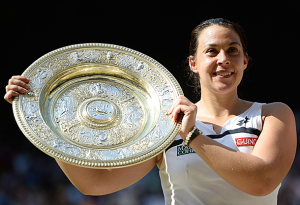 In a move that will send shockwaves reverberating through the tennis world, defending Wimbledon champion Marion Bartoli announced her retirement from the sport following a second-round loss to Simona Halep of Romania at the 2013 Western & Southern Open in Cincinnati.
'Wear and tear'
After the match, Bartoli told reporters that the wear and tear on her body is the overwhelming reason she's walking away from the game, per the Western & Southern Open's Twitter feed. Bartoli later took to Twitter to thank fans for their support:
"Hey to all of u! 4:55 am can't sleep of course ,reading all your sweet messages, and it makes me cry, thank u for sending me all this love"
'Unorthodox playing style'
Best known for her triumph at the All England Club just earlier last month, the 28-year-old Frenchwoman began her pro career in 2001. She bounced around smaller tours overseas, finally breaking through as a permanent fixture on the WTA tour two years later.
Taking a stepping-stone approach to stardom rather than the rapid ascent usually seen in this sport, Bartoli slowly worked her way up the world ranks. Known for her unorthodox playing style—in particular her two-handed forehand and backhand swings—she made a habit of giving the very best in the world a run for their money over the course of her career.
She won her first singles championship in 2006 at the ASB Classic in New Zealand, going on to win two more during that campaign to achieve her first top-20 ranking. Overall, Bartoli finishes her career with eight WTA titles.
Do you think Marion Bartoli's retirement is final or will she decide a little later to come back? Who is your favorite female tennis player?
Source: Tyler Conway | Bleacher Report
Image: Sports Illustrated